This was THE kit that I knew I had to purchase long before any previews or sneak peeks of Tarte's holiday 2012 was available. Last year, I had purchased their Lip Service LipSurgence kit and really fell in love with their LipSurgence lip pencils. Normally, each pencil retails for $31CAD or $24USD but this whole LipSurgence Collector's set contains 5
full sized
LipSurgences for $44CAD/$34USD! This is the best deal you will ever get for these lip products.
I do believe that they did raise their prices slightly from last year though. If I remember correctly, I believe that it was $39CAD last year for the set of 5 but nevertheless, still an amazing deal. These are available at
Sephora
and
Tarte
.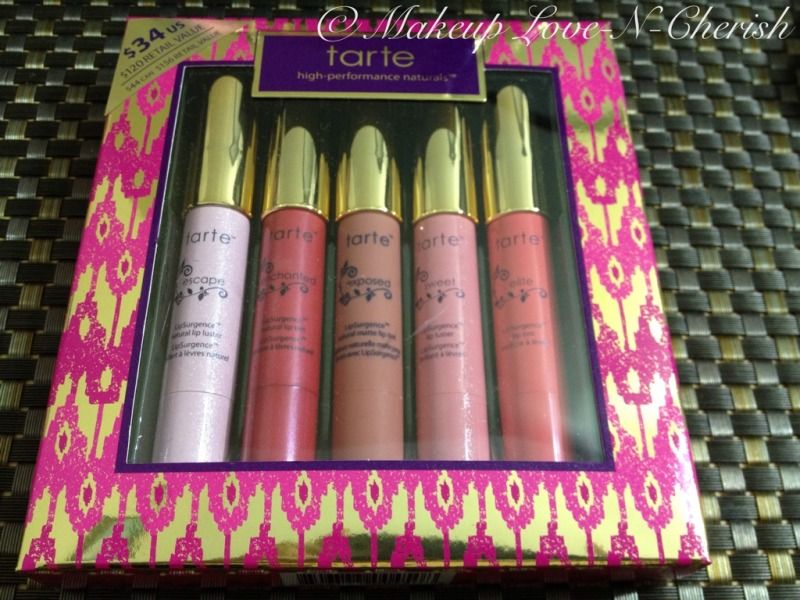 What you get:
- 2 LipSurgence Lip Lustres in Escape and Sweet
- 1 LipSurgence Matte Lip Tint in Exposed
- 2 LipSurgence Lip Tints in Elite and Enchanted
Escape: A sheer light pink
Sweet: Pink with small golden sparkles
Exposed: A brownish pinky nude
Elite: medium pink (sheer)
Enchanted: rose (sheer)
If you're not familiar with Tarte's LipSurgences, they are basically moisturizing chubby lip pencils with a variety of finishes. The Lip Lustres, are more like a shimmery gloss and do not tint your lips. Their original Lip Tints leave your lips with a long lasting tint while giving it a glossy finish. Their third option is the matte Lip Tints which are just like matte lipsticks except they also give you that beautiful lasting tint. They also recently came out with LipSurgence Lip Shines which are also just like glosses except they offer colors that don't have sparkles in them.
These come in a plastic twist up package; so no sharpening is required and they make for great on-the-go lip colors because of their convenience. Upon initial application, you will notice a minty scent and feel that goes away after 5 minutes. The mint scent is in no way overpowering or tingly. It just gives your lips a slightly cool feeling. If that is something that bothers you, then these may not be for you. Personally, I quite enjoy the cooling effect on my lips. Maybe these will be good to use after a spicy meal?
L-R: Escape, Sweet, Exposed, Elite, Enchanted
Escape
Sweet
Exposed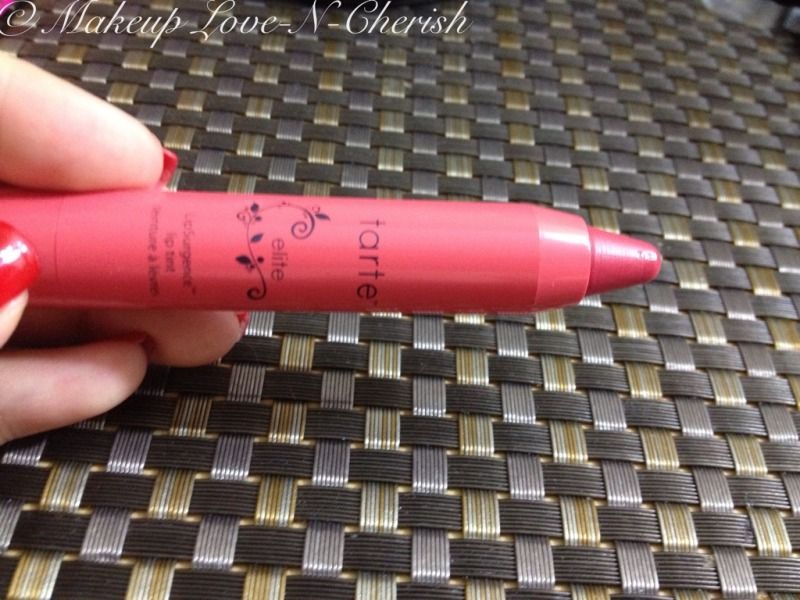 Elite
Enchanted
I am very satisfied with this years kit; even more so than last year's actually. I feel like this year's colors are a lot more wearable and will go along with a bigger variety of looks. There was a couple harder to match colors last year. In terms of color, I would have liked to have seen a red in this collection, just like last year, as it is a must have for the holidays! Perhaps to replace either Elite or Enchanted? The 2 look rather similar in my opinion. I love the fact that they threw in a matte LipSurgence in there this time around though because their matte lip tints are the most opaque ones amongst the three and it'd be a shame to not get a chance to try it for those that are sampling these for the first time. I'm considering getting a back up set of these but I may not simply because I still have a backup of last year's set sitting in my drawer. I'd definitely choose this year's set over last year's any day though - even with the price increase!
Have you picked these up? What are your opinions on the LipSurgences?
Disclaimer: This is my personal honest review. The views and opinions of this post are not sponsored and products were purchased myself. This does not reflect any ideologies from the company/advertisers of this product.